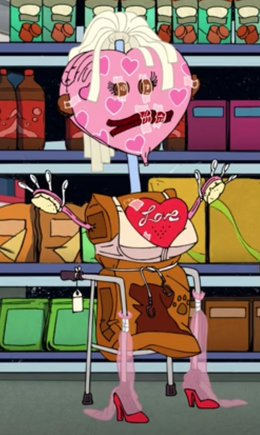 Reeses Witherspoon
is a pile of Valentine's Day decorations and products made to look like a person.
Coach Steve
built her and made her his girlfriend. She appeared in "
My Furry Valentine
".
Biography
In "My Furry Valentine", Coach Steve built Reeses Witherspoon out of store-bought Valentine's Day products and treated her like a real person. Coach Steve treated Reeses Witherspoon as though she was his girlfriend so that he wouldn't be alone on Valentine's Day.
In Coach Steve's imagination, Reeses Witherspoon could actually talk and she told him how much she loved him. She did, however, remind him that at 12:00, he would forget everything that happened, which meant that she would disappear from his life.
Appearance
Reeses Witherspoon is a pile of Valentine's Day junk. The base of her body is a sky blue mop and the white yarn serves as her hair. Her head is one of those cheap heart-shaped aluminum foil balloons that you'd find at Party City. It's rose-colored and has a bunch of hot pink hearts on it. Her body is made from a brown bag of dog food with a chocolate silhouette of a dog on it. Her arms are made of pink hairbrushes and her fingers are made out of plastic spoons. An old lady walker is used to keep her upright. There are translucent pink tights and red high heels on the front legs of the walker to make her legs. She has a bullet bra on her bag with a plastic red heart toy that has a speaker on it and the word "Love" written in white cursive letters to look like her boobs.
Trivia
Her name is a pun on Reese Witherspoon.
Gallery
Community content is available under
CC-BY-SA
unless otherwise noted.