"Everybody's Going Through Changes" is a song sung by Connie in "My Furry Valentine".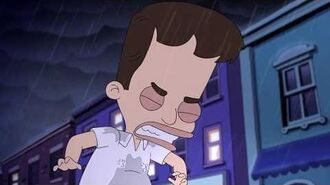 Lyrics
 Duke (Spoken)
Something on you mind Connie?

Connie (Spoken)
Mm, it's been a hell of a
Valentine's Day. Duke

Duke (Spoken)
I hear that

Connie
I was his monstress
And he was my whole world
Oh, such a sweet boy
With the tits of a girl

Love isn't easy
It's painful and cruel
It makes you look
Like an asshole

When you're trying be cool
He's going through changes

Brad (spoken)
Are you sure about this, bro?

Jay (spoken)
No.

Connie
They're going through changes

Jay (spoken)
Abra-cum-drabra

Connie
Everybody's going through changes
In their life. Ooh
Community content is available under
CC-BY-SA
unless otherwise noted.