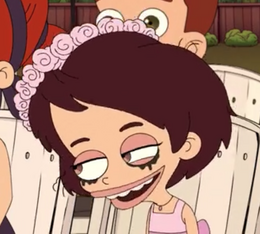 Devin's Sister is the unnamed younger sister of Devin who first appeared in "Rankings" where she is seen drunk at Devin's wedding with DeVon.
History
She served as the flower girl for her sister's wedding and got drunk sometime before the ceremony and tried to talk to Ali and Jessi and invite them to do karaoke.
Appearance
She has the same brown hair and eye color as her sister. She is considerably younger than Devin.
Personality
Trivia